Cape Breton Family Video
Your Ticket To Entertainment
George St. Location Now Open 24 Hours.
---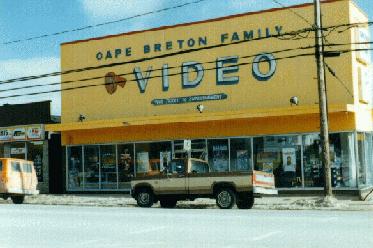 New Realeases This Month: 

   Ghost in Mississippi 
   Shine
   Fools Rush In
   Absolute Power
   Donnie Brasco
   Metro
   Relic
   Vegas Vacation

---
                2 Locations to Serve You:  

  465 George St.                        45 Keltic Drive
  Sydney, NS                            C.B. Shopping Plaza
  562-3212                              Sydney River
                                        539-6263   


Coming in July, Summer Specials!!

Rent 2 New Releases and Recieve:


2 Lt's of RC Pop

A Bag of Popcorn

An Areo Bar
Trident Gum
For only
---

***New Specials Each Month ***Fabulous In-Store Specials
Gigantic Movie Sale
Second Saturday of Each month
10:00 A.M Til 3:00 P.M.
Basement Location, 465 George St.
A wide Range of Title's to Choose from.
Print and Clip This Valuable Cupon!

---------------------------------------------------------------------------
|                                                                         |
|    GOOD FOR 1 FREE RENTAL AT ANY CAPE BRETON FAMILY VIDEO OUTLET       | 
|                                                                         |  
|                                                                         |
|    LIMIT 1 PER CUSTOMER                                                 |
|                                                                         |
|                                                                         |
|                                                                         |
|    454 George St.                          45 Keltic Drive              |
|    Sydney NS                               C.B. Shopping Plaza          |
|    562-3212                                539-6263                     |
|                                                                         |
|                                                                         |
|                                                                         |
|    members.tripod.com/~cbdir/cbvid.htm                                  |                   
|                                                                         |
|                                                                         | 
---------------------------------------------------------------------------

E-Mail Cape Breton Family Video at: THC@ISTAR.CA

---