ROCKINGHORSE INN
---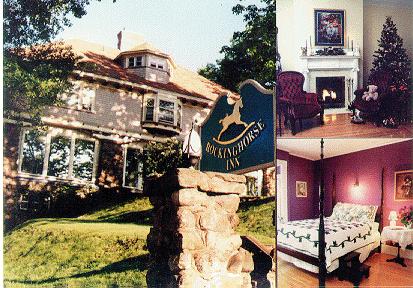 259 King's Road,
     Sydney, Nova Scotia
     B1S 1A7
     (902)539-2696 (Bus/fax)
      
           or



   Call Toll Free!
   
   1-888-664-1010

---



Rates:                                       * Each accommodation includes
                                               bath ensuite with full hot
June 15 - Oct. 15                              breakfast served between
                                               8 and 9 A.M.
The Bell Room (Queen Bed)  $95.00
Lavender Room (Queen Bed)  $95.00            * Be sure to sample our  
Green Room    (Double Bed) $80.00              chocolate rum truffles,  
Marconi Room  (Queen Bed)  $85.00              handmade in our kitchen.
Raspberry #9  (Double Bed) $80.00
Raspberry #10 (Double Bed) $80.00            * Honeymoon Packages 
                                               $130.00 + Tax.     

October 16 Til June 14 all Rooms are $75.00 + tax per night.

---

Featuring:

Glassed Sunporch for Reading and Evening T.V.
Evening Dinner available by reservation.
The "Lavender Room" bridal suite is available upon request.
The Jack Pitman Memorial Library for Private Dining.
---

Step through the doors of this authentic Victorian mansion and take a step back in time to 1891. The Rockinghorse Inn will allow you to experience all the charm of yesterday with the good service you expect today.
---
---